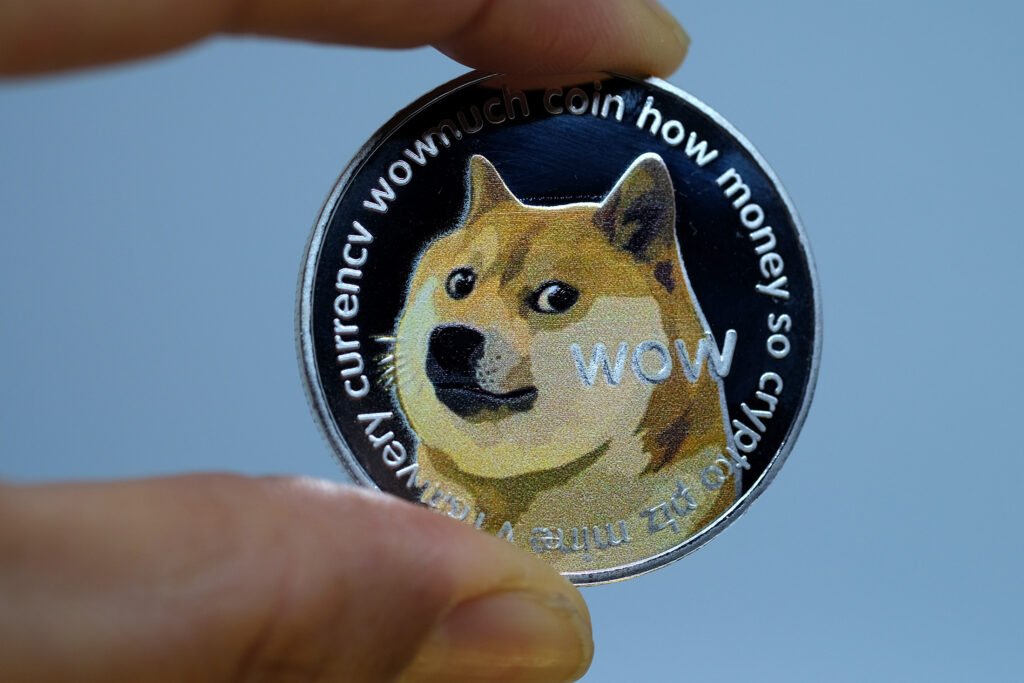 Dogecoin has become one of the fastest-growing cryptocurrencies in the world today. It has exploded in only a few month's time. It has reached a level to give the highest returns among its peers in 2021.
What is Dogecoin?
Dogecoin was created back in 2013. The appearance of Dogecoin was inspired by the viral meme face of the Shiba Inu dog breed. With the aim to establish itself as a friendly cryptocurrency, it became popular as the "Meme Cryptocurrency".
Interestingly the creator's Billy Markus and Jackson Palmer formed it just for the sake of fun. They never visioned it to be serious crypto anytime during its initial years. But recently Dogecoin has seen a surge. The growth leap is even greater than that of the crypto king, Bitcoin.
So what's the reason behind the popularity?
The Testa CEO, Elon Musk proved to be favorable for the record-breaking growth spree of Dogecoin. He tweeted a series of DOGECOIN tweets mentioning it as the "people's crypto."
In another tweet, Musk titled a painting called 'Dog Barking at the Moon' by Spanish artist and sculptor Joan Miró's painting as 'Doge Barking at the Moon'.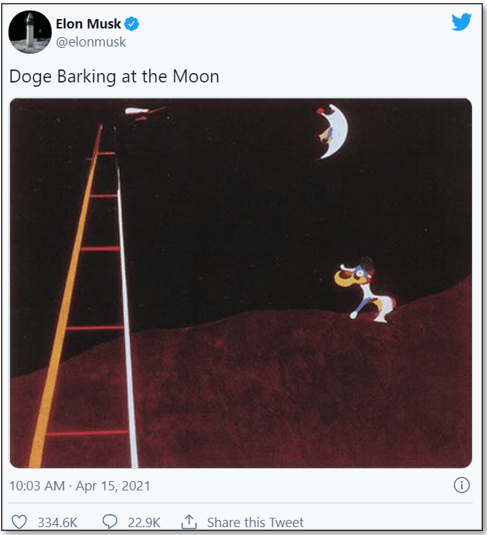 Further, he tweeted about his appearance in the 'Saturday Night Live'(SNL) Show which is scheduled to be premiered on May 8th. He again mentioned Dogefather, hinting to the investors that he might bring up Dogecoin on SNL.

Elon Musk, being a successful billionaire, has boosted several other cryptos like this before too. But Dogecoin has solely faced this limelight in 2021 and mainly due to his tweets. Several other celebrities like Snoop Dogg, Dallas Mavericks, Kevin Jonas, etc also helped in the boom of Dogecoin.
The Growth of Dogecoin
During mid-April 2021, the meme cryptocurrency literally doubled in value and witnessed its lifetime high. It gained a whopping 100% growth in just 24 hours. Elon Musk always mentioned that his tweets on Dogecoin are meant to be jokes only. Because of the fame and community association, dogecoin has become the most discussed crypto coin in history. The hype surrounding Dogecoin has made it reach the list of top 5 crypto-currencies.
How to invest in Dogecoin in India?
Though investing in Dogecoin might prove to be risky in the long run. But considering the growth pattern and the return rate it is giving, it is definitely attractive crypto to invest in.
In India, investing in cryptocurrency is not beyond the bounds of possible tasks. Though it is quite obstinate to accomplish if you're a newbie crypto investor. But there are many crypto exchanges that make the whole process of buying and trading a crypto a fairly easy thing for a layman too. Crypto exchanges or applications like Zebpay, WazirX, CoinDCX, Coinswitch Kuber are pretty popular in India and one can get hold of it in no time if you follow the step by step guide:
Research for the crypto exchange well before investing your money. Once you're sound with which application to go with, run ahead and install it.
Set up your account by registering yourself and then make sure that your KYC details get verified.
Make it a point to explore the terms and conditions of the application very cautiously.
Now fill in your bank account details and deposit the fund with which you want to start your journey as a Crypto Investor.
Once the money starts showcasing in your account, you can simply use it to buy Dogecoin or any other cryptocurrency. (Check the screenshots for reference)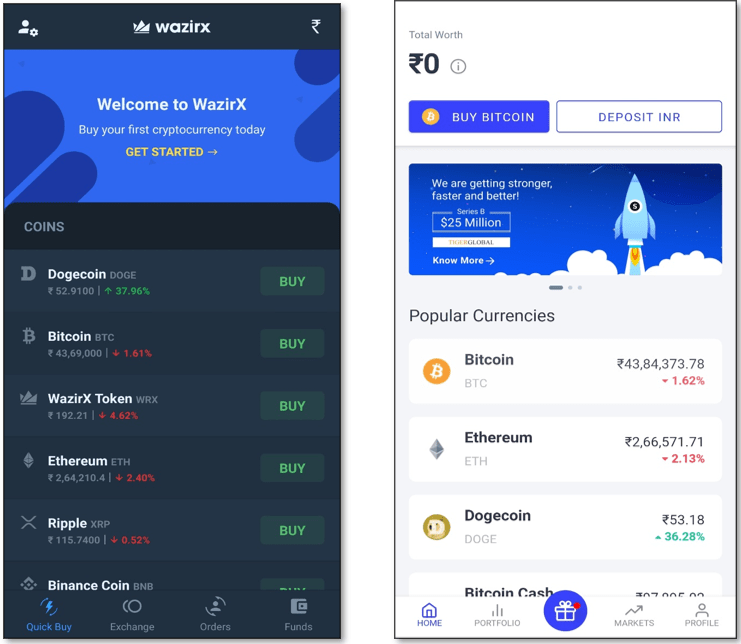 Note: As a Cryptocurrency investor, you don't have to own a Lakh or two, investing can be started with as little as 100 INR. So be patient, don't invest your everything, take your time, learn and invest.