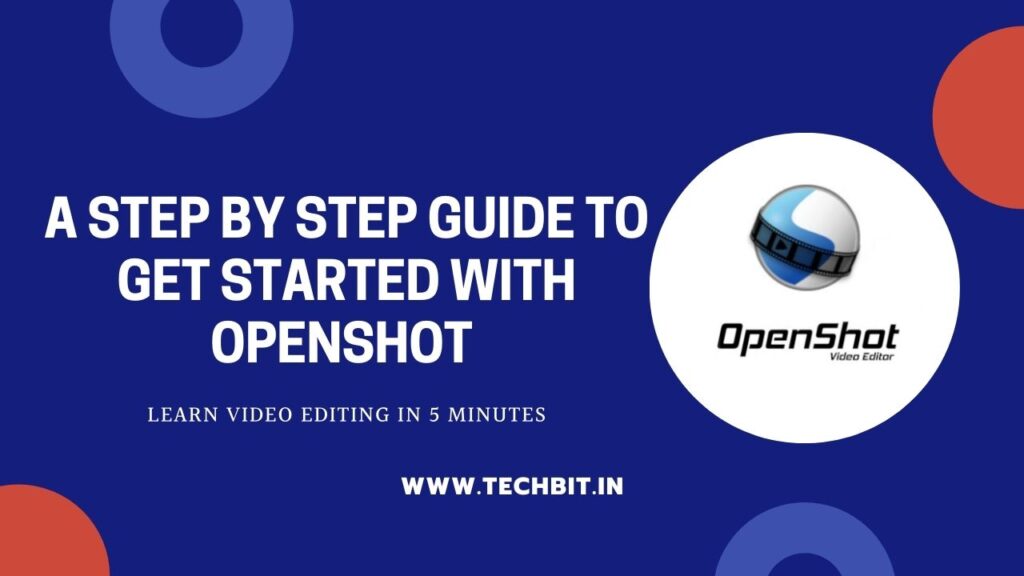 OpenShot Video Editor Tutorial:
Video Editing is a more in-demand skill ever since the World has faced Corona and its after-effects. The software we are using is OpenShot Video Editor. Primarily because of these 3 reasons:
It's not so over-whelming interface
It's free and open source
It is a cross-platform compatible application
Other than the listed reasons, I strongly believe it is a very beginner-friendly software and thus is very easy to adapt to.
Download
Open a new tab in your browser and search for "OpenShot Video Editor". Just download the software according to your system configuration. Once the download gets complete, install it like any other software.
How to use OpenShot Video Editor?
Now that we've downloaded the software, you just open it. Give it some time to get it opened completely, as it might take some time.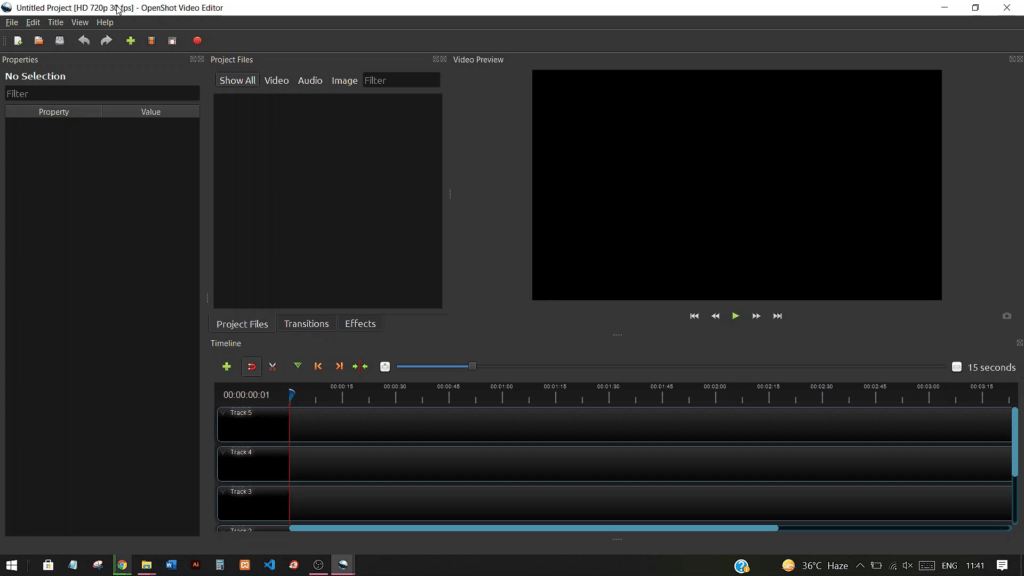 Once you are done until here, let's move ahead. I've mentioned a step by step procedure to follow:
Just Drag and Drop the files that you want to work on in the "Project Files" area. The files can range from videos, images, audio, and many more.
Now again drag and drop the files one by one on a particular track, one file per track.
Perform any of the following features according to your need.
Splitting a file
If you want to split a part of your video, just select the "Razor Tool" from the tools section and split the portion right away. Make sure to deselect the razor tool once you have completed the task of splitting.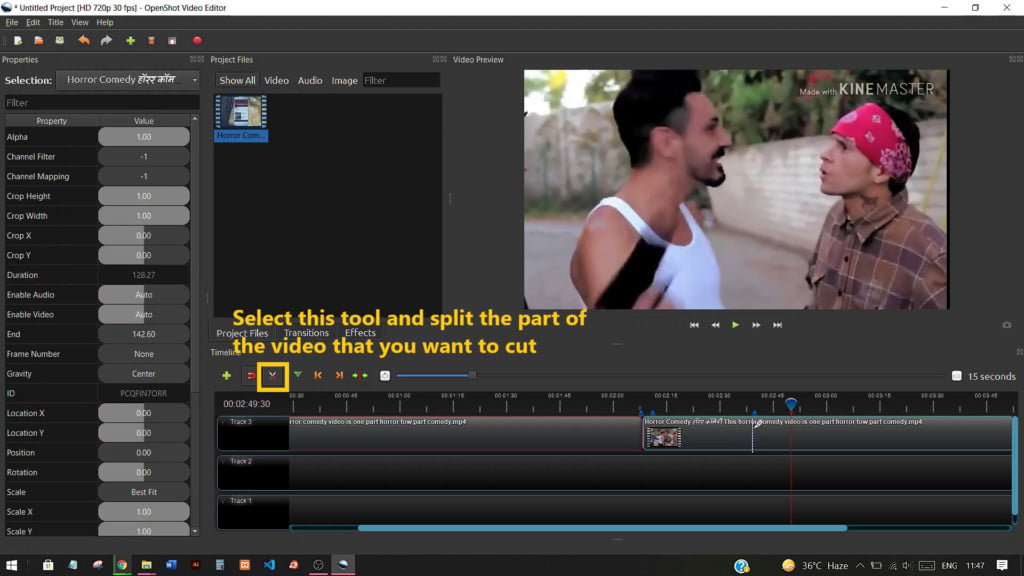 On the clip that you have just split using the tool, just hit the "del" key on it to erase it from your running project.
Using Markers
Splitting becomes easier with the use of markers. Markers can be used to mark any region of your video/audio clip that you want to later split or add any other filter, transition, or feature.
Using Transitions
Adding Transition to your video is a very professional attempt to make any video look good. With OpenShot this is also just a drag and drop feature. Head over to the transition section and choose any particular transition that you want to add. Now just hold it and drop it to the part of the video to which you want to add it.
Using Effects
Effects is another amazing feature that OpenShot has to offer. Just do the usual drag and drop to your video, and adjust the properties from the left panel accordingly. I'll write another article on just some of the most important and useful effects of OpenShot.
Muting Audio from Video
So if you want to mute some audio or even separate the complete audio from the sample video, then just right-click on the track in which you have your video. Now a list of options will appear in front of you. If you just want to separate the audio, click the option that says "separate audio from the video".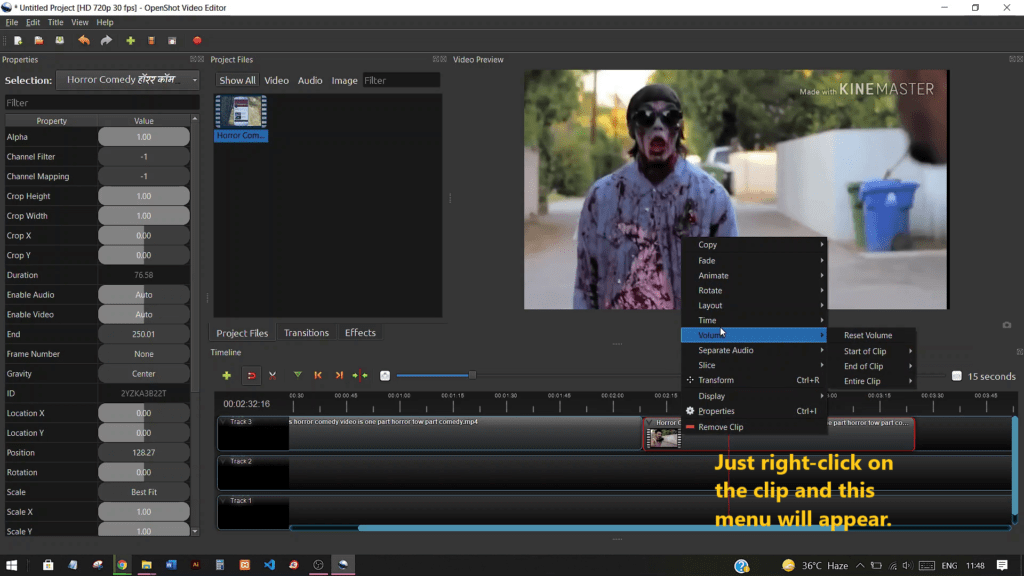 And if you want to mute or lower down the volume of the audio, then head on to the "volume" option, and choose accordingly. For muting the whole video clip, choose "volume">"entire clip">"level 0%".
Exporting your project as a Video in OpenShot
Every edit in OpenShot is treated as a project by default. So once you're done with the editing of your clip, find "file" in the top bar of the OpenShot's interface. Click it and then click "export project" and after that click "export video". or else simply hit ctrl+E.
Customize the video quality settings and video profile according to your need. Also, set the path and the title of the video that you want to export.
Bonus
So I totally understand following a written tutorial on such a topic can be a little challenging at times. As a bonus, I have already made one video that will help you in getting started with this skill as well. In the video, I have nicely explained the interface and the basic functions that a person will require in order to build the foundation.
Here's a link to that video: https://youtu.be/_8YwUMsKwPo
My Conclusion on OpenShot
And that's it, it's the simplest video editor I've worked with till now. It has a lot to offer with just a simple drag and drop interface for most of the things. If you are still doubtful about which software to get started with, I suggest you just start. If you feel any other software is simpler in terms of use than OpenShot, then please do share it with me. Also, I will now make some particular write-ups and videos on OpenShot. So stay tuned for that. Thank you for staying till the end. Please share your experience of this reading in the comments below.
Some of most latest posts: